Chandler Nguyen was curious about South Korea game industry for a while now so he is using eMarketer reports, App Annie and a few other sources to highlight the top 8 key facts about South Korea Mobile Game industry below in his Digital Marketing & Technology Blog.
1. South Korea ranks 4th in  the world in terms of Mobile Game Revenue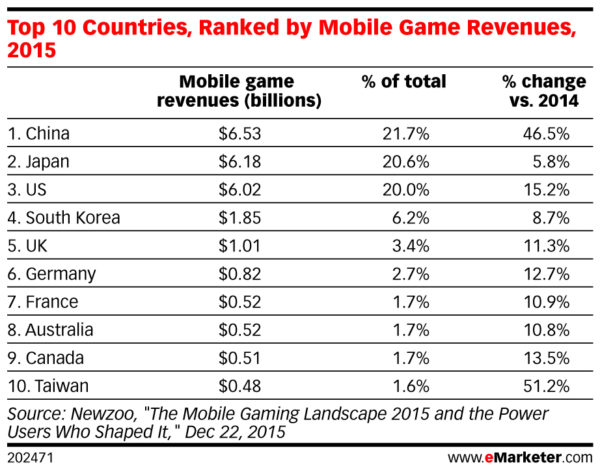 2. Mobile game revenue in South Korea is on par with PC/console game revenue in 2016
3. There are more than 20M mobile gamers in South Korea or 49% of all internet users (42.8M)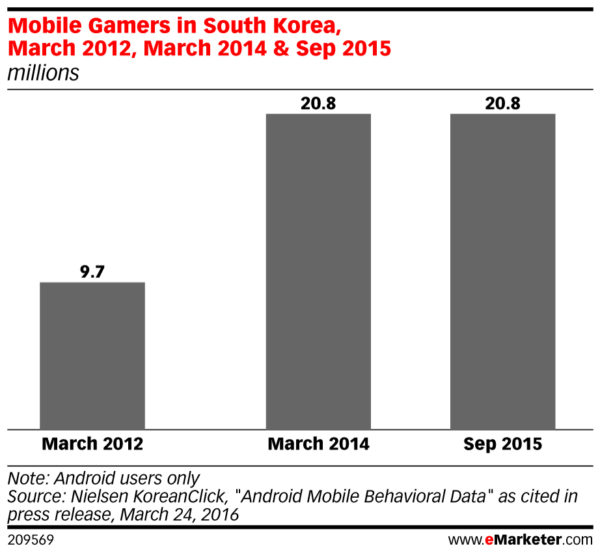 4. About 60% of mobile gamers in South Korea spend more than 30 mins+ per day playing games vs an average of 96 mins on the internet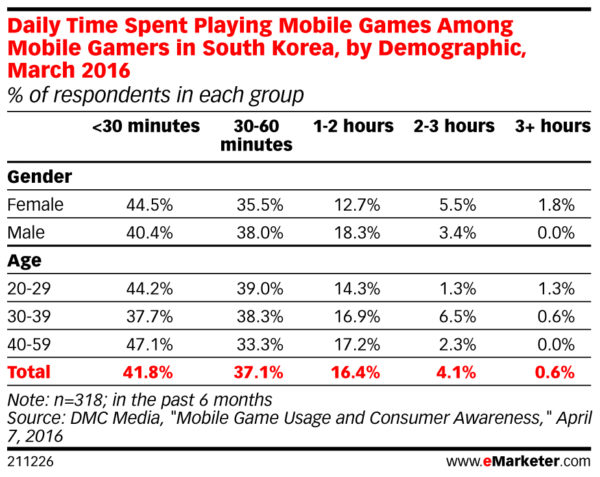 As you could see from the table above, there are no major differences between gender amongst South Korean mobile gamers.
About 80% of mobile gamers play less than 60 mins per day, which suggests that they see this as a casual form of entertainment, rather serious professional players.
In comparison to time spent on TV, however, mobile game time is significant.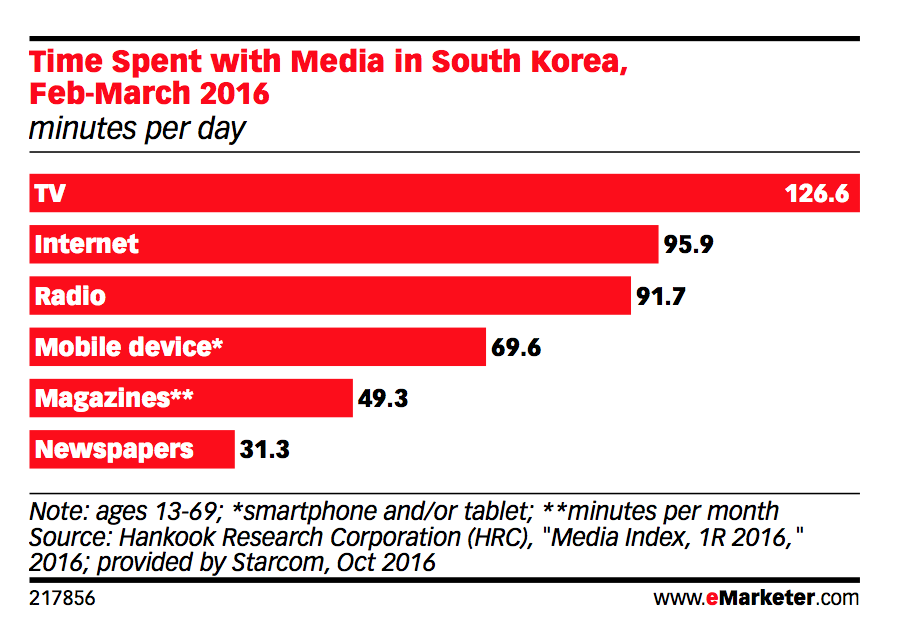 5. Mobile gamers in South Korea mostly play on Android OS (75%). About half of mobile gamers spend money on games, spending on average monthly $12.8 per payer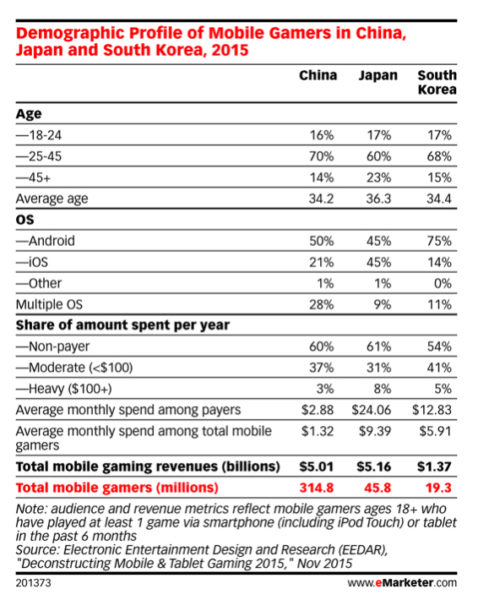 6. 35% of South Korean mobile gamers install 4+ games per month to try but they also uninstall them quickly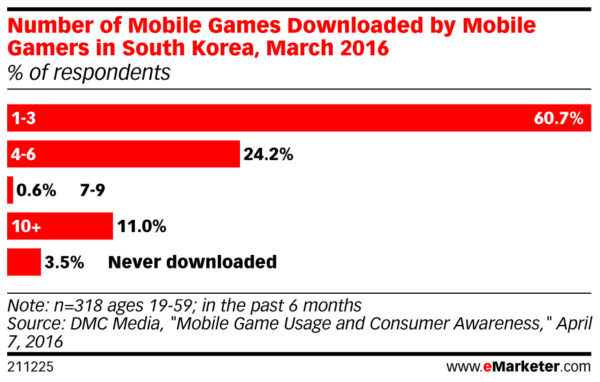 and below are the top 3 smartphone app categories installed vs uninstalled across key markets in APAC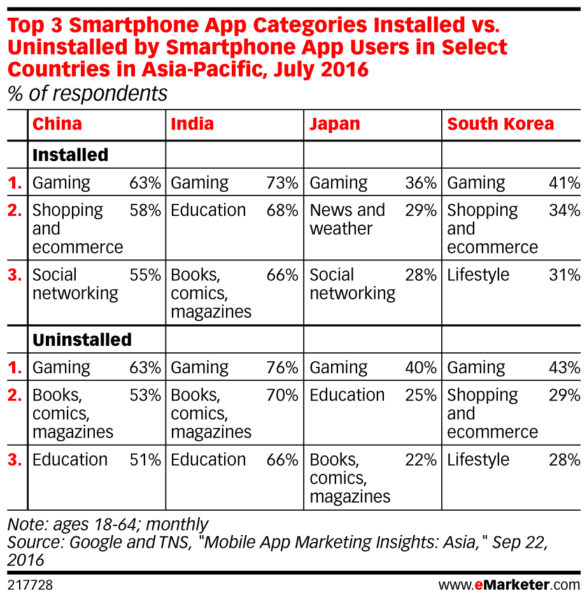 7. Local players (9 games) dominate the top 12 grossing mobile games on Google play in South Korea Dec 2016; and 8/12 games are Role Playing games (RPG)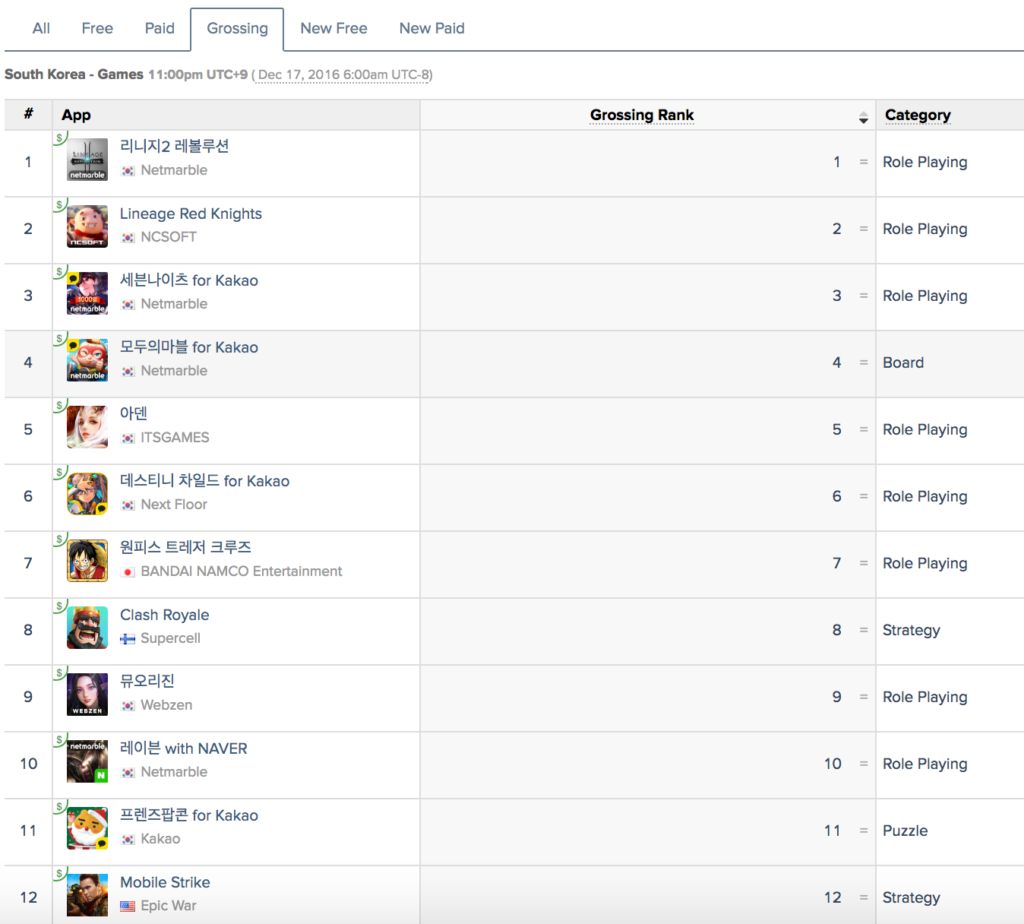 8. Mobile games as a "bite size" form of entertainment
Recent article from eMarketer "Analysing habits of South Korean Mobile Gamers" suggested that "Gamers in South Korea also appear to play such mobile games as a "bite size" form of entertainment rather than as an ongoing activity. More than 78% of mobile gamers spent less than one hour per day playing, and more than 40% spent less than 30 minutes per day. The relatively short time spent figures suggest mobile gaming may be used as a time filler during activities liketaking public transit or while multitasking."
AppLovin interview with Josh Burns has many interesting insights as well:
"The top 10 games in the market capture nearly 75 percent of the overall market revenue." – estimate from Josh

When you ride the

subway

there, the

majority of ads

you'll see will likely be for

mobile games

— nearly all of the country's population is centered around

Seoul

, making in-person marketing such as subway ads quite effective.

Timing for communications is also key for South Korean mobile gamers: local developers tend to send

push notifications during commute hours

or during the

lunch break

, and

in-game sales often occur around payday (24th-26th of every month)

. Also, developers have leveraged in-game subscriptions for awhile now, so players are accustomed to that monetization strategy."
Source: Chandler Nguyen for A Digital Marketing & Technology Blog